TL;DR
We recognize that today's students are going to lead our transition to a low carbon future.
Students need to know more than the climate science, they need to understand how their current lifestyles contribute to climate change.
We all need to take stock of our own contributions to climate change and start tracking our household emissions.
Once we are measuring our impact, we can pursue evidence-based changes to the way we live and advocate for low emission infrastructure and investments.
At Project Neutral, we are building out our platform to support teachers and students in this process of discovery and advocacy.
We would love your help!
I'm already convinced!
Where do I sign up!
What is this pilot program?
We have discovered that our carbon calculator is being adopted by groups as a way of educating themselves about climate change and bringing this issue to a personal level. The Youth Strike for Climate demonstrates that students have emerged as leaders in the difficult social dialogue about our transition to a low carbon society. This is why we are developing our website to better support students, teachers and other educators who want to bring Project Neutral into the classroom.
Starting in February 2020, a redeveloped Project Neutral platform will be released. It will be designed for teachers and students to begin measuring their household carbon footprints. What has us really excited is the opportunity for this learning in the classroom to extend into the home allowing students to become effective advocates in reducing emissions throughout the entire school community!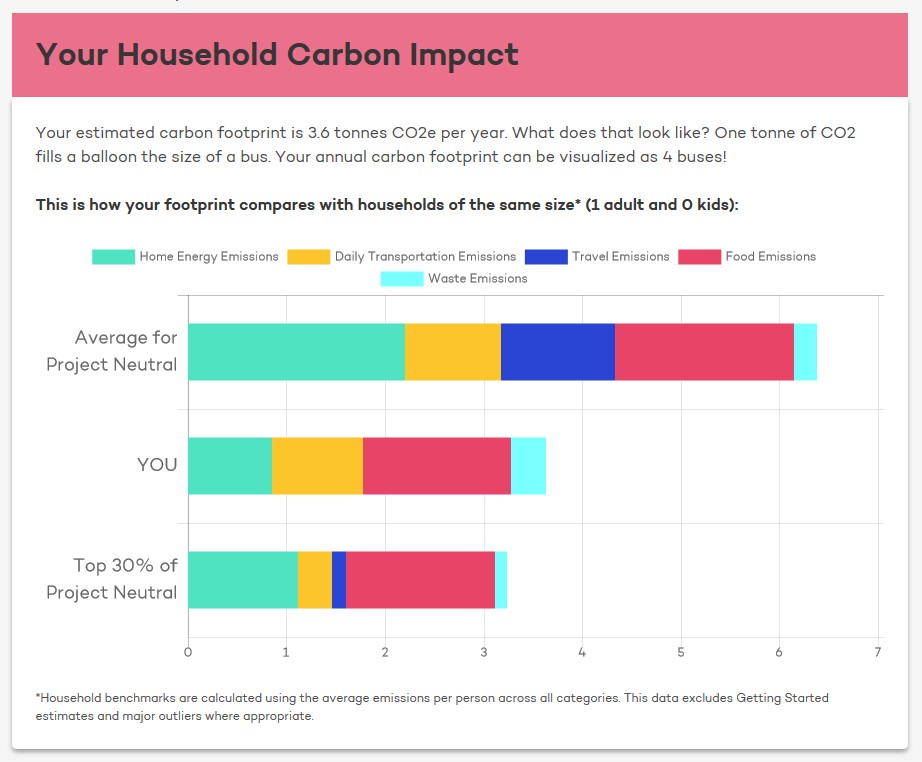 A screenshot of the Project Neutral Dashboard
How can I be involved?
If you're a teacher or educator, it's as simple as filling out the form below and letting us know a bit about your school and Project Neutral staff will contact you about taking part in this pilot!
If you're a student, it's as easy as finding those teachers at school that care about the environment—the one who always uses a reusable mug or the one who helps lead your school's Ecoteam—and tell them about this new program!
If you're a parent, share your concerns with your child's teachers and school administrators and suggest this program as a resource. Beyond that, getting fellow parents or even members of the PTA to use the tool and understand its value will only improve the impact of the program.
If you're none of the above, but are really passionate about this issue then you can still help us bring this to the attention of schools in your community!
What would be expected of schools?
To have at least one teacher who is willing to be a primary contact in delivering the program, creating a school account and communicating with Project Neutral. Ideally this teacher will have others supporting them or a student Ecoteam to amplify their efforts!
To be willing to use the Project Neutral within some of their classes and to guide their students in calculating their household carbon footprint. Don't worry, there will be guides, walkthroughs and suggestions to help any teachers who choose to participate.
To share their experiences with Project Neutral and be willing to give feedback, both positive and critical, that can lead to this becoming a truly valuable program for schools, students and the larger community.
To accept that this is our first year sharing this resource and that even though our staff will be highly responsive there will likely be a couple of bugs to iron out.
What do I need to prepare?
We are developing resources to help make this journey as streamlined and simple as possible. Right now all that is required is:
To fill out the form below and let us know you're interested.
To find at least two classrooms in your school that are willing to participate.
To begin planning a period of time where you will make the calculator open to students and their family for submissions.
To dream a little about how our calculator could be used in the classroom and what fun and meaningful activities might pair nicely with it.
What is a pilot program anyhow?
Okay, so you likely know what a pilot program is—it's the first time a program is run. Pilot programs tend to have a few characteristics that make them unique:
systems, structures and expectations are still being formed
they are going to have a few bugs, whether it be in the software or the humans running the program
participants in the program are actually a type of co-creator and the more motivated and passionate they are the better the final program manages to be
In software this would be a callout for beta testers: people who recognize that there will be a few kinks, but are excited enough at the program being developed that they are willing to share any issues they encounter with the folks developing the program to help them build it right.
If you've read this far then you are probably exactly the type of person we are looking for!
Our promises to you!
We here at Project Neutral recognize that taking part in our pilot is a form of partnership. We take our partners seriously and aim to create relationships grounded in collaboration and respect. Here is what you can expect of us:
prompt responses (in keeping with our small team)
clear and reasonable expectations and guidelines
a commitment to an open dialogue and a shared journey
a desire to deliver the very best experience to schools and students
humility if we should make any mistakes
generosity if you need any extra help
gratitude for your support
respect for your valuable time.
Take part in the pilot